Transporting a Car in the Winter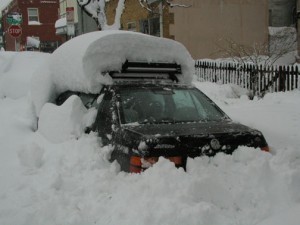 If you live in the Northeast, I'm sure the great "snowpocalypse" of 2010 wreaked havoc in your neighborhood. New York was hit hard and it'll probably take weeks for some of those massive snow mounds to melt. Some towns saw up to two feet of snow! That's probably nothing compared to some Midwest states, but it's a lot for us! Of course there were plenty of people who felt the need to drive out in blizzard conditions and got stuck in the snow –many cars were even abandoned. So what does this have to do with transporting a car? Well, everything! For those looking to travel across the country during the winter, it can be very hazardous.
Regardless of which direction your headed, you're likely to hit snow somewhere along the way. Snow is probably one of the most dangerous driving conditions –on Long Island we had over 100 accidents reports. Instead of risking your safety, why not use car transport services from ABC Auto Transport? Their trucks can handle snow a little bit better than your Mini Cooper (even with the new four-wheel drive model!). Snow may look beautiful but it's dangerous and I refuse to drive in it. Don't be caught in the storm. Transport your car to safety!
You can follow any responses to this entry through the RSS 2.0 feed.
You can
leave a response
, or
trackback
from your own site.
Leave a Reply
You must be logged in to post a comment.